A year after the pandemic began, we have seen how our personal and professional habits have evolved in such a way that experts speak of a 10-year technological leap.  This has caused digital sales to account for 27% of total sales in 2020 alone, and is expected to reach 32% share by 2024. 
Right now conversion on digital channels, both mobile and web, is the main KPIs in most organizations with an online presence. At LUCE we continue to maximize our clients' digital sales results, and these are some of the data we want to share: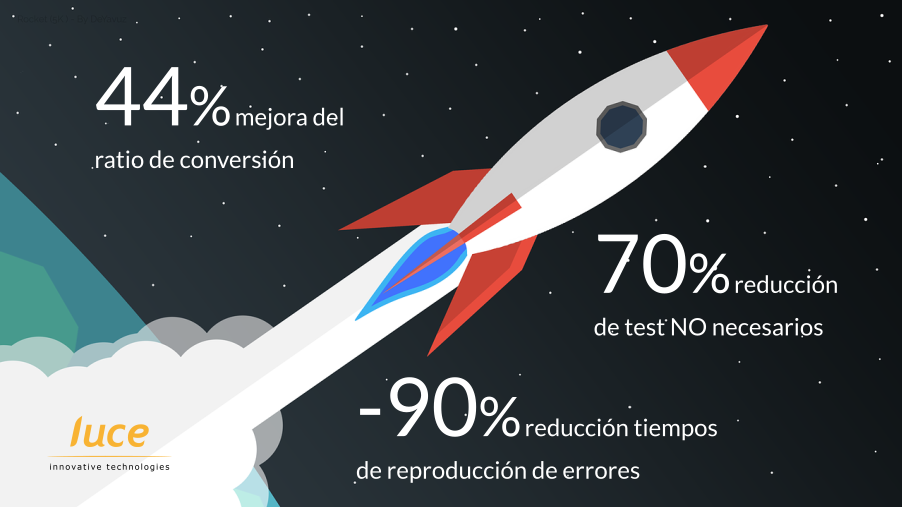 Thanks to our Data and Technology we have achieved amazing numbers, 40%+ increase in Conversion Rate, efficiency of 70% in CRO processes, and a reduction of error reproduction times by 90%. This is the basis for a better quality of traffic on all your online channels, which ultimately reduces the CPA (cost per acquisition) 

Session analytics is one of the tools with the greatest capacity for understanding customer behavior, allowing you to increase the vision you have of your customers to understand their needs and reduce the time to satisfy them. But what are the advantages of session analytics?
Expanding the quantitative information, provided by classic analytics tools, combined with qualitative information, will provide relevant insights for a multitude of teams within the organization
Session analytics provides valuable information for different teams within the organization, as it allows to have a cross view from more technical aspects of the platform that help IT teams to detect the causes of errors or unexpected behaviors, to the analysis of usability obstacles for UX teams. 
What is the main value provided by session analytics?
To broaden the view on my customers in order to identify their needs and create new strategies that allow to evolve the digital channels simplifying the exploration phase and increasing conversion, making use of the following tools:
Calculate the economic impact of obstacles

Alerts and automatic detection of deviations.

Fully capture all user session information without the need for tagging

Obtaining insights through heat map analysis, attention mapping and form analysis. 

Root cause detection of obstacles and errors.

Detect common patterns and measure their occurrences.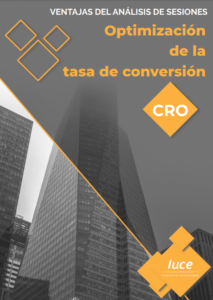 If you want to know more, you can download the full report on"Conversion Rate Optimization"prepared by the Luce team, on the art of optimization and the keys to maximizing your conversion rate.
Session analysis provides the real objective experience of all digital channels of all customers, to all departments of the company that require knowledge and observation of them. 
Our actions and our digital response (tests, personalizations…) will be much more accurate if we pay attention to the real digital experiences of customers (even if they have not bothered to tell us anything themselves), because we will know it by acting passively.

If you want more information on how to optimize the conversion rate and improve the omnichannel experience of customers shopping on your website, contact Luce. We offer you the possibility to have a demonstration without obligation or cost. 
At LUCE we team with our clients to help them build their competitive advantage. A competitive advantage built on their ecosystem, increasing the value of the client's own teams with a business-first approach.
Since 2008, LUCE has been helping in the digital transformation of its clients, in the areas of software development, Big Data, Digital Marketing, Analytics, Cloud and Intelligent Automation.
We make the objectives of each client our own, we commit to them and they form an active part of our team specialised in the best solutions that automate and accelerate the digital transformation of value. 50% of IBEX35 companies already trust us because we bring technology, value, ideas, commitment and honesty.
The true value of LUCE is the committed team that is generated between our clients and us.
We are a team with the strength to conquer the future!
>>Would you work with Luce again?