Discover the Digital Optimization Ecosystem that will allow you to increase your conversion rate
The mission of any organisation is to increase its conversion rate across all available sales channels, regardless of the maturity level of the organisation or the size of the business.
These channels can be digital such as web or App, own channels such as sending notifications, SMS, email marketing campaigns or paid channels through SEM positioning campaigns on search engines, social networks and display ads. But it is also important to take into account offline channels, such as physical shops or call-centres.
A good start is to increase the use of sensorisation techniques that allow increased visibility of customer interaction in order to start defining hypotheses and strategies to increase conversion across all channels. 
Optimization Stack
The ecosystem of technological optimisation solutions proposed by Luce to start applying the techniques that will allow you to increase the conversion rate in all channels, contains a whole stack of solutions, technology and innovation that, together with the expertise of our team, will help you to build and execute the right strategy for your organisation.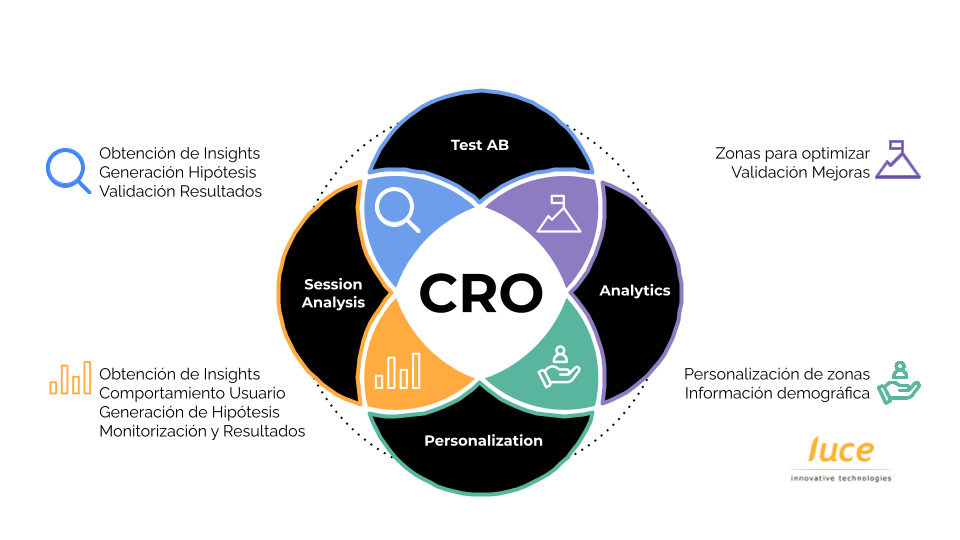 This stack is made up of four well-known techniques used by most organisations, but the real value is the interaction between the different elements and the ecosystem of your organisation to which we fully adapt.
Session analytics
This is the initial phase that should be used to investigate individual sessions across channels, be it application, website or mobile digital experiences.
At the visitor, page and session level, it visualises whether users are experiencing slow loading, buttons that don't work, missing information, unclear design and any other friction in the customer experience.
The initial analysis is based on understanding the current usage of the platform by users and the settings made in order to optimise the configuration and lay the foundations for CRO.
Test AB
This is a trial-error test that consists of launching several versions of the same component and then analysing which of them works best, and based on that, decisions can be made. 
At Luce we apply both simple tests and the most advanced AB tests for automatic audience management, prioritisation and synergies with analytics that allow us to carry out Hypotheses and Analysis supported by Session Analysis.
Analytics
This is the application of tools that perform in-depth analysis of test results in order to assess the statistical significance of test results, improvement or deterioration of the main metrics and related insights. 
Workspaces are created with advanced metrics performing deeper analysis that incorporate greater segmentation and Artificial Intelligence in the exploitation of the data, to generate trends and causes of behaviours.

Personalisation
Customisation solutions are applied in organisations that are already starting out in AB testing in order to obtain key metrics without increasing the complexity of the measurement. 
Through simple rules you can customise the different contents in the different channels, to carry out measurements that generate autonomous data from the analytics tool.
Using more advanced rules that include artificial intelligence, personalisation can occur at one-to-one levels and in real time.
Do you want to increase your Conversion Rate?
Contact the team of experts at Luce Innovative Technologies to find out how we can help you solve your technology challenges successfully..
At LUCE we team with our clients to help them build their competitive advantage. A competitive advantage built on their ecosystem, increasing the value of the client's own teams with a business-first approach.
Since 2008, LUCE has been helping in the digital transformation of its clients, in the areas of software development, Big Data, Digital Marketing, Analytics, Cloud and Intelligent Automation.
We make the objectives of each client our own, we commit to them and they form an active part of our team specialised in the best solutions that automate and accelerate the digital transformation of value. 50% of IBEX35 companies already trust us because we bring technology, value, ideas, commitment and honesty.
The true value of LUCE is the committed team that is generated between our clients and us.
We are a team with the strength to conquer the future!
>>Would you work with Luce again?