Want to know the secrets that will help you extract more value and profitability from your data? 
LThe most advanced marketing directors know how to extract stories from data, analyse performance and implement changes that affect business results, delivering inspiring and original digital marketing campaigns that lead them to achieve their desired goals. 
New tools make data analysis accessible and easy, even for the most tech-shy or technologically laggard CMOs. Often, it's more urgent to launch a campaign than to sift through incomprehensible graphs or endless pivot tables. However, the real value is generated by using solutions that lead to intelligent, data-driven decision making, with instant insight into your customers' tastes, so you can better "target" your campaigns.
If you want to see what these secrets are, don't hesitate to consult the complete guide, provided by our partner DOMO, which shows you the secrets that will help you extract more value and performance from your data. 
The 7 secrets in this report will help you get more value and more revenue from the data your organisation currently has.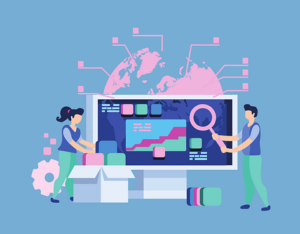 Among other things, it contains the following information:

 Are You a Data-Driven CMO?
Whether you're thinking about starting to make data-driven decisions, or you're already doing it, but you're not sure if you're doing it right, Luce has the specialist team to help your organisation generate value by supporting data-driven business decisions, thanks to tools like DOMO, which brings all your data together in a single, dynamic dashboard, so you know how to better analyse and serve your customers based on your data.
Luce IT, always adding value
"We believe that technology and data could change the world"
The history of Luce is a story of challenges and nonconformity, always solving value challenges using technology and data to accelerate digital transformation in society through our clients.
We have a unique way of doing consulting and projects within a collegial environment creating "Flow" between learning, innovation and proactive project execution.
In Luce we will be the best offering multidisciplinary technological knowledge, through our chapters, generating value in each iteration with our clients, delivering quality and offering capacity and scalability so they can grow with us.
>>Would you work with Luce again?