Automation has the power to transform every department in the organisation. It is a fact that any business or public administration needs to automate its processes, operations and developments to optimise and generate value for both employees and customers. However, organisations do not gain performance and efficiency by simply adding automation. What really matters is to identify the level of maturity and establish development plans.
For this reason, at Luce we believe that establishing the starting point, i.e. knowing what level of automation lifecycle your organisation is at, is fundamental to identifying the gaps to fill in order to accelerate the digital transformation that all IT departments aspire to achieve.
At Luce we identify the following levels of automation maturity: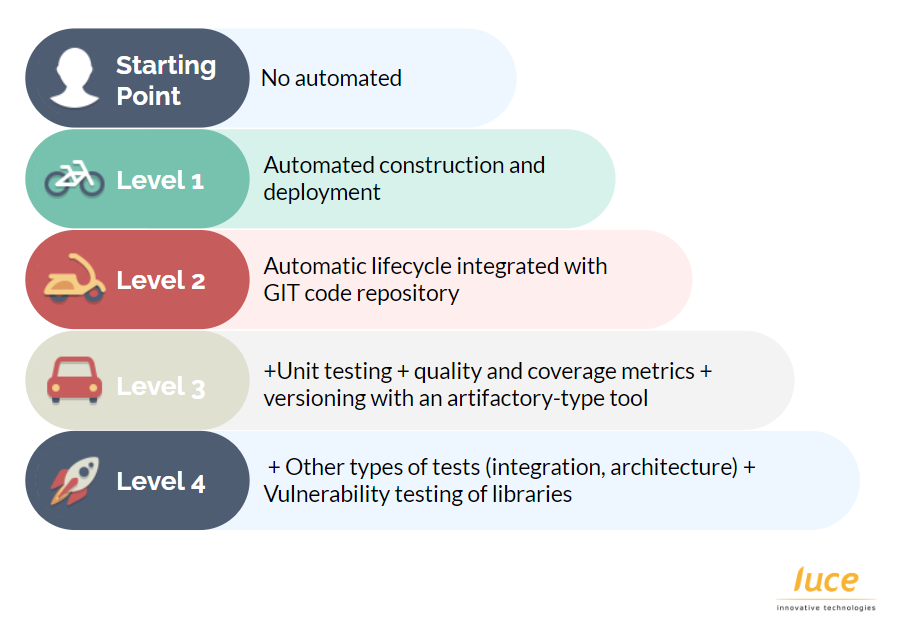 Luce is in an unbeatable position to successfully tackle any lifecycle automation challenge to your satisfaction, putting at your disposal our own skills, knowledge and experience.
Our team is highly qualified and skilled in the identification, design, development and implementation of process automation solutions thanks to the experience gained from customer references.  The experience of more than 12 years in the use of agile methodologies for the development of incremental technological projects, allows us to minimise the initial time to put the solution into production.
The commitment to provide value with the most innovative and technological vision to our customers is constant, opting for knowledge management, training and subsequent technical support as key activities for the technology transfer process, which is what ensures the optimal use and sustainability of the system.
Can you identify what level of lifecycle automation maturity your organisation is at?
Contact the team of experts at Luce Innovative Technologies to find out how we can help you solve your technology challenges successfully.

Passion for technological challenges
"We believe that technology and data could change the world"
The history of Luce is a story of challenges and nonconformity, always solving value challenges using technology and data to accelerate digital transformation in society through our clients.
We have a unique way of doing consulting and projects within a collegial environment creating "Flow" between learning, innovation and proactive project execution.
In Luce we will be the best offering multidisciplinary technological knowledge, through our chapters, generating value in each iteration with our clients, delivering quality and offering capacity and scalability so they can grow with us.
>>Would you work with Luce again?