Results of 222% of the return on investment.
IDC study shows Google Cloud platform helps SMBs accelerate business growth with 222% return on investment
Introduction
In the global situation in which we find ourselves, companies are faced with time and resource limitations, and it is therefore necessary to be able to provide solutions that help accelerate this digital transformation and thus gain a competitive advantage.
In response to these limitations, many companies are turning to cloud technologies that can help them spend less time on infrastructure management and more time growing their businesses.
According to the study "SMBs figures. Data January 2020", over 99% of the business fabric in Spain is made up of SMBs, and many of the SMB customers have chosen Google Cloud as their cloud provider because it is easy to use and is designed to be open, reliable and innovative with intelligent analytics and built-in artificial intelligence.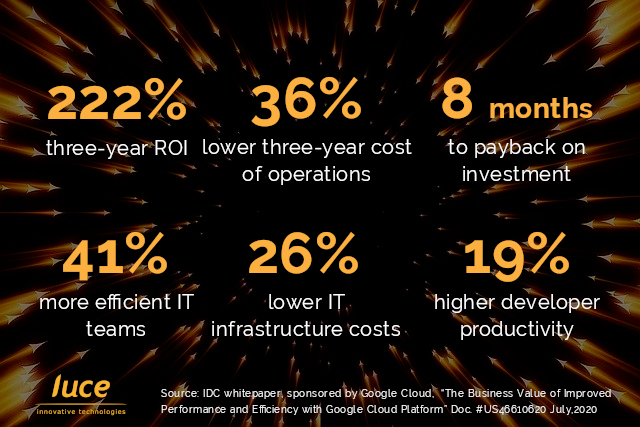 222% ROI with Google Cloud
With this situation in mind, Google Cloud commissioned a study from IDC Research to analyse the challenges that SMBs have to adopt in the face of the digitalisation of their business, and its results. Luce as a Google Cloud Partner Advantage, shares the results of this study "The Business Value of Improved Performance and Efficiency with Google Cloud Platform", where it is discovered that Google Cloud SMB customers can achieve a return on investment of 222% over three years with an average annual profit of 1.09 million dollars per year and per organisation.
Source: IDC whitepaper, sponsored by Google Cloud,  "The Business Value of Improved Performance and Efficiency with Google Cloud Platform" Doc. #US46610620 July,2020
Google Cloud and Luce
For years Luce Innovative Technologies has been an Advance Partner of Google Cloud.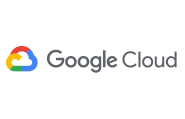 We have the necessary tools, technology and support to put the needs of our customers first and advance our business together.
Luce's team is duly certified, being specialists in Google Cloud and Google Workspace solutions.
About Luce
What do we do? Luce is a company with extensive experience in successfully implementing projects of transformation to data-led business models and user-centered through the use of innovative technologies, usable and responsible. If you are thinking of embarking on a new digital project and want to maximize your guarantees of success do not hesitate to contact us without any commitment.