Our Data + Technology vision has helped increase the Conversion Ratio to over 40% of our customers.
Report prepared 100% by Luce's team. Based on data and real experiences.

Most companies are constantly evolving to adapt to growing customer demand and the high rate of change in technology.
This evolution has been shaped to position the customer at the center of strategies where all effort is focused on improving the experience and meeting the needs of customers, even anticipating what, when and how they require.
This means having a 360-degree view of the customer and optimizing channels to better distribute the investment in search of a more personalized impact.
As a result of COVID-19, the pattern of purchase has changed from traditional commerce to e-commerce, which in the case of Spain has registered an increase of 55%*. Furthermore, it is estimated that this change in customer habits will continue to a large extent even after the epidemic.
The technological stacks of today's organizations have at their disposal solutions aimed at optimizing the user experience in digital channels, with the web and mobile applications being the reference. To understand the behaviour of the target audience, it is necessary to go into the field of data analysis, where quantitative analytical tools can be used to know "what" is happening, combining it with qualitative analytical tools to find out "why" it is happening. In order to answer the "Why" question, advanced session analysis solutions must be used.
Session analysis is proposed as one of the tools with the greatest capacity for understanding customer behaviour, allowing for an increase in the vision available for understanding their needs and a reduction in the time taken to satisfy them. Expanding the quantitative information provided by the classic analytical tools, combined with the qualitative information, will provide relevant insights for many teams within the organization.
So much so, that Luce has obtained impressive results applying session analysis to important clients in the banking, hotel, retail and industrial sectors. But this kind of tools can be applied in any company and/or sector, especially with the exceptional situation we are living with the pandemic caused by the coronavirus.
The numbers show, in real Luce data, that the use of Session Analytics optimizes digital channels with results as striking as these: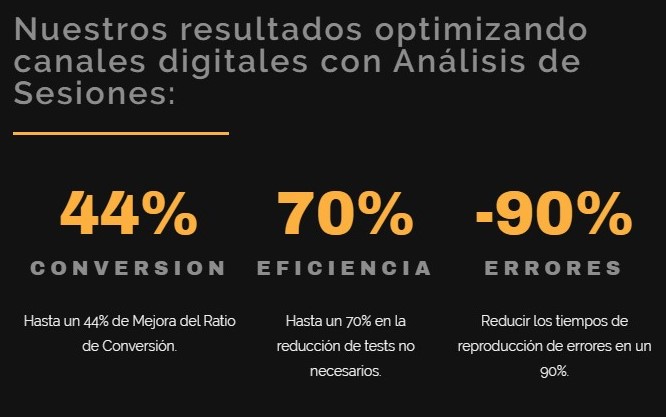 You can download the complete report on "Conversion Rate Optimization" prepared by Luce's team, on the art of optimization and the keys to maximize your conversion rate.
If you want more information on how to optimize the conversion rate and improve the omnichannel experience of customers who buy from your website, contact Luce.