Luce has Assets designed based on our expertise, methodology and technology that increase the conversion rate of our clients.
Over the past year, consumer shopping behaviour has driven e-commerce and digital omni-channel retail experiences. Data fromGoogle search engine(1)comparing the last quarter of 2019 and 2020, they indicate that retail searches grewat a rate 3 times higher than in the same period last year, signifying a major shift towards digital. Unsurprisingly, with this trend the market is optimistic and hopeful ahead of Christmas shopping. 
According to Google's "Retail Marketing Guide: Capture the comeback this holiday with Google", forecasts for the end of 2021show the highest retail spending in nearly four decades, estimated to reach $4.5 trillion.
That's why it is imperative to have your digital channels readyto deliver an optimal customer experience that leads to an increaseor dconversion rateand online sales.
At Luce, we have years of experience in optimising digital channels for clients across a wide range of industries. We have condensed that knowledge in a way that accelerates the achievement of results through our assets, which combine our know-how with technology, data and proven methodologies.
Some of our key assets for conversion rate optimisation include:
Search Asset: It allows us to relate search behaviour with customer browsing patterns in order to analyse their interactions on the web in depth. This facilitates the study, segmentation and therefore the optimisation of the access of customers searching on our website.
Engagement Score Asset: It calculates the engagement rate of visitors by monitoring their behaviour on landings, browsing patterns and conversion rates. This score is very useful for generating hypotheses and creating personalised experiences based on visitor interest.
Customer Effort Score Asset:

It allows us to determine "how hard" we make it for our customers. That is, it calculates the effort customers have to make to progress through each step of the buying process, which allows us to identify possible user segments that have more or less problems, as well as the most advanced hypothesis on how to improve and optimise those processes.
Campaign Attribution

Asset

: Relates campaigns to user behaviour to define the optimal marketing strategy, correct obstacles, improve conversions, and act accordingly to optimise the Ads budget.
Promocodes Asset:

Broadens the vision of promotional codes to analyse in depth their use and acceptance among the target audience, avoiding possible incorrect or fraudulent use.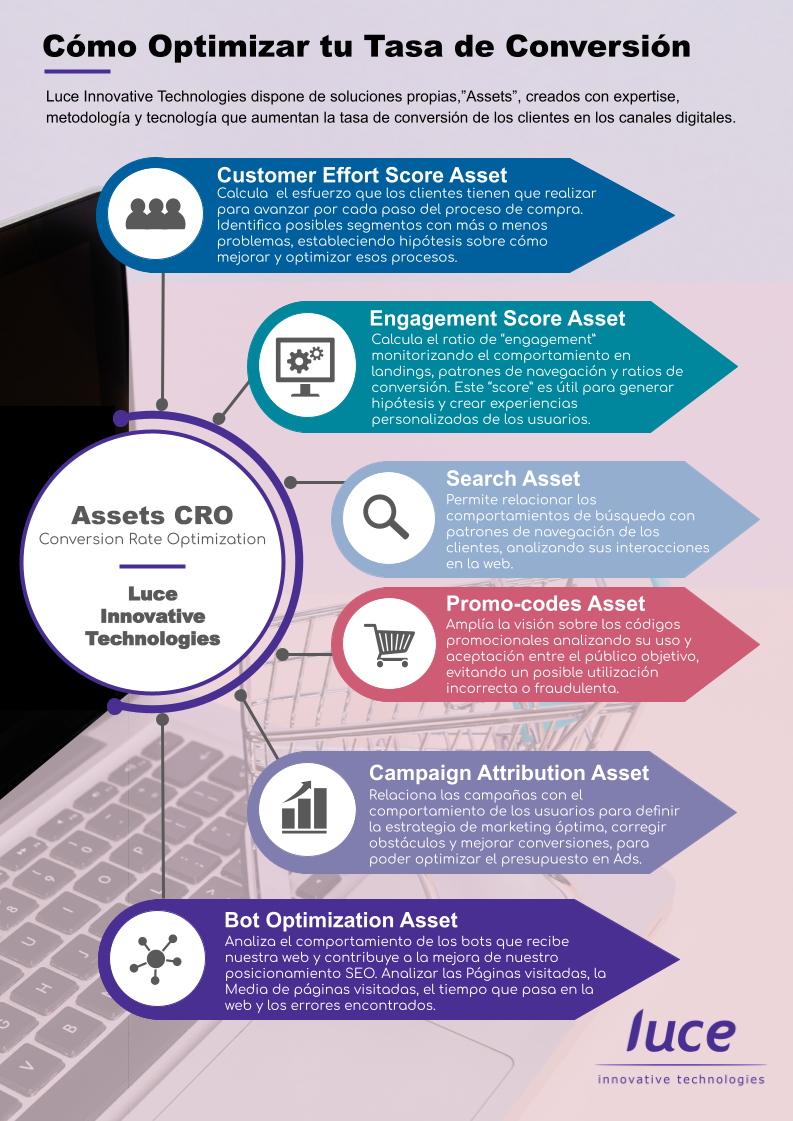 If your company is not yet ready, Luce can help you with our extensive experience in Analytics and Data projects in the field of eCommerce and Digital Marketing, as well as in the deployment of optimal data governance models.
Our team has extensive expertise working with large companies and detecting user behaviour patterns, applying CRO methodology with a focus on business impact and strategic KPIs of the organisation.
We apply the most innovative technology and have a deep knowledge of the tools that make up the Ad&Martech ecosystems, web / mobile development and automation technologies.
(1) Think With Google: How to drive retail sales and reach new customers this holiday season  
At LUCE we team with our clients to help them build their competitive advantage. A competitive advantage built on their ecosystem, increasing the value of the client's own teams with a business-first approach.
Since 2008, LUCE has been helping in the digital transformation of its clients, in the areas of software development, Big Data, Digital Marketing, Analytics, Cloud and Intelligent Automation.
We make the objectives of each client our own, we commit to them and they form an active part of our team specialised in the best solutions that automate and accelerate the digital transformation of value. 50% of IBEX35 companies already trust us because we bring technology, value, ideas, commitment and honesty.
The true value of LUCE is the committed team that is generated between our clients and us.
We are a team with the strength to conquer the future!
>>Would you work with Luce again?