Luce helps build each client's competitive advantage, and today we want to tell you how one of our main clients, RIU Hotels & Resorts, an international hotel chain, has achieved amazing results with Acoustic Experience Analytics.
The Acoustic Experience Analytics tool helps to achieve the business objectives proposed by RIU's management, as it provides greater visibility of the situation in real time of what is happening in digital channels. In the specific case of RIU, they developed new strategies by studying user behaviour and improving conversions on the website.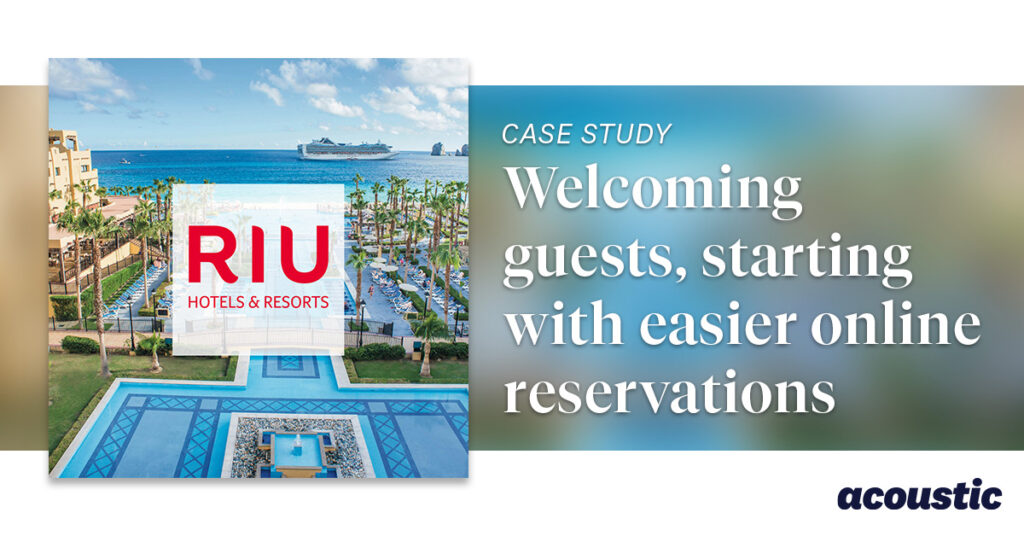 With the pandemic, web channels have taken on significant importance and have become a competitive differentiator. Particularly in the hotel sector, where competition is very aggressive, and even more so in the current context, user experience is vital. The use of Acoustic has allowed us to understand user behaviour and improve conversions by reducing the obstacles detected. 
The main challenge to solve was to analyse and understand customer behaviour in order to detect new needs that directly favour conversion and user experience. As well as looking for a solution that would allow constant real-time monitoring of browsing in order to reduce action times before any anomaly, internal or external, that could directly impact the business.
These are some of the results achieved by RIU with the implementation of Acoustic Experience Analytics:
30% 

reduction in need for situation analysis

3% 

of global turnover identified as anomalous

50%

of global turnover identified as anomalous
You can find more information about Case Study RIU Hotels and Resorts at  Acoustic.com
If you want to see the full use case of RIU and Acoustic, contact us, and our team sent to you immediately.
About RIU
RIU Hotels & Resorts operates 100 hotels in 20 countries that in 2020 received 2.3 million guests. A total of over 24,500 employees work at RIU, which is currently the 32nd largest chain in the world — the third largest in Spain by revenue, and the fourth by number of rooms.
About Acoustic
We're reimagining marketing technology by lessening the burdens of repetitive tasks. By connecting it all in one single view, and by giving marketers more time to do what really matters: thinking bigger and putting themselves back into the work. Our goal is to bring humanity back to marketing. We stand for marketers, and we help them aim higher.
At LUCE we team with our clients to help them build their competitive advantage. A competitive advantage built on their ecosystem, increasing the value of the client's own teams with a business-first approach.
Since 2008, LUCE has been helping in the digital transformation of its clients, in the areas of software development, Big Data, Digital Marketing, Analytics, Cloud and Intelligent Automation.
We make the objectives of each client our own, we commit to them and they form an active part of our team specialised in the best solutions that automate and accelerate the digital transformation of value. 50% of IBEX35 companies already trust us because we bring technology, value, ideas, commitment and honesty.
The true value of LUCE is the committed team that is generated between our clients and us.
We are a team with the strength to conquer the future!
>>Would you work with Luce again?