How do you prepare your organization to respond quickly to any  types of impacts in order to remain viable? What about unique market opportunities that remain hidden?
In both cases, LUCE believes that the answer lies in having new data-driven insights to discover where, when and how your team should focus in the coming months.
The cloud has been a boon for these analytic endeavors because it allows organizations to inexpensively store and analyze all the data they need and use that data to detect threats, create new products and services, improve recommendation systems, and otherwise improve business outcomes. Even small companies with limited budgets can take advantage of technologies formerly
available only to large organizations with well-funded IT teams.
Successful organizations have learned to easily access, unify, integrate, analyze, share, and even monetize data of many types and in exponentially larger amounts. They know how to acquire  new data sets that exist outside their domain and easily com- bine them with their existing data to reveal fresh insights. And  they have established a culture of analytic literacy and democracy that informs the important decisions their people make every day.  Armed with that information, they can pivot quickly when new events and opportunities impact their organizations at local and global levels.
If this topic is of interest to you, I think you might also like to take a look at this e-book, sponsored by Snowflake – one of our strategic partners in the area of Data – to learn how to build a modern analytics strategy.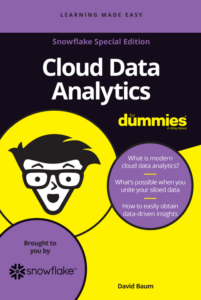 The highlights of the ebook are:
What is 'modern data analytics' and why it is increasingly urgent to have it.
What can be gained by breaking down data silos
What is the real potential of data science?
Why organisational transformation and alignment is critical
What's involved in creating practical modern analytics
However, adopting cloud data analytics is not just a matter of repurposing yesterday's on-premises technologies, or moving existing analytic applications and databases from your data center to a cloud vendor's infrastructure. Properly leveraging the power and scale of the cloud requires a new mindset, a new set of management principles, and a new set of cloud-built capabilities.
Do you want us to help you build an analytics strategy?
Contact  the team of experts at Luce Innovative Technologies to find out how we can help you solve your technology challenges successfully.
Passion for technological challenges
"We believe that technology and data could change the world"
The history of Luce is a story of challenges and nonconformity, always solving value challenges using technology and data to accelerate digital transformation in society through our clients.
We have a unique way of doing consulting and projects within a collegial environment creating "Flow" between learning, innovation and proactive project execution.
In Luce we will be the best offering multidisciplinary technological knowledge, through our chapters, generating value in each iteration with our clients, delivering quality and offering capacity and scalability so they can grow with us.
>>Would you work with Luce again?