And the consumers reward companies that get it right
If you want to drive your brand forward in 2022, customer experience is the driver of that change and personalization is the fuel you need to get there.
Consumers don't just want personalized experiences, they demand them. Since the shift in purchasing with the advent of the pandemic, brand and product loyalty is increasingly difficult to achieve, and that's why it's important to get it right.
Companies that have figured out what personalization really means and how to leverage it are already outperforming their competition.
The key is to develop deeper relationships with your customers, and rely on data and analytics to improve your digital marketing campaigns, to go where you never imagined before.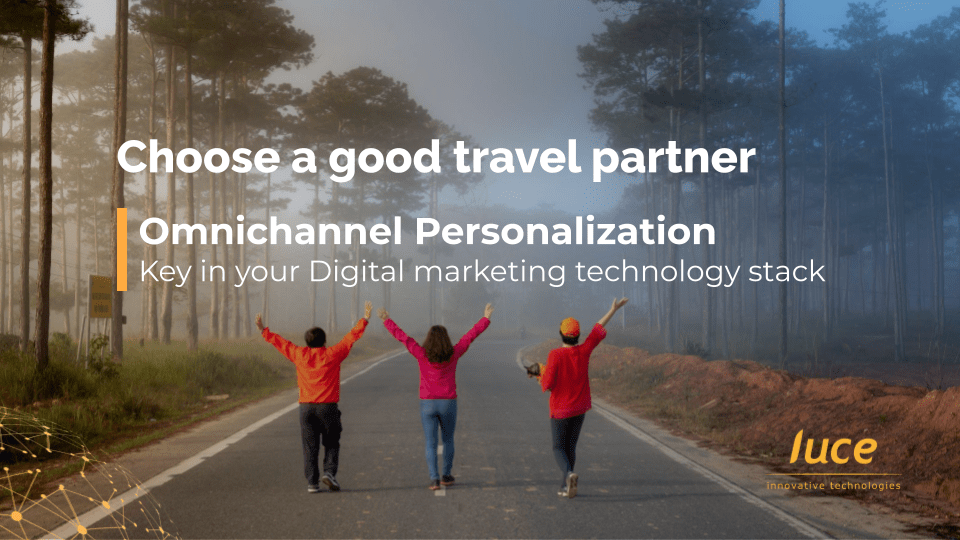 The challenge for marketing managers is to know how to make the right choice among the variety of personalization solutions on the market. It is essential to be advised by a travel companion with real experience demonstrated through references and success stories, who can make the journey as smooth and comfortable as possible, with concepts that are easy to understand and tangible results in the short term.
Are personalization and customer experience optimization on your 2022 roadmap?
Contact the team of experts at Luce Innovative Technologies to find out how we can help you solve your technology challenges successfully.
Personalizing the customer journey of each target customer is Luce's priority.
Not only do we address each customer interaction in the different isolated moments, but we consider omnichannel to create a 360 customer experience by applying a holistic customer connection strategy.
Luce addresses each element of the customer journey in the acquisition, modeling and activation phases, as well as in the automation of audience management and discovery, which allows us to eliminate manualities, optimize management and make intelligent decisions based on creative, product and customer experience recommendations.
Passion for technological challenges
"We believe that technology and data could change the world"
The history of Luce is a story of challenges and nonconformity, always solving value challenges using technology and data to accelerate digital transformation in society through our clients.
We have a unique way of doing consulting and projects within a collegial environment creating "Flow" between learning, innovation and proactive project execution.
In Luce we will be the best offering multidisciplinary technological knowledge, through our chapters, generating value in each iteration with our clients, delivering quality and offering capacity and scalability so they can grow with us.
>>Would you work with Luce again?