Case Studies
RPA
Automation
Automation Anywhere
Cloud
Data Lake
Service Platform
Microsoft
Artificial Intelligence
Machine Learning
Microsoft
Business Inteligence
Analytics
DOMO
Client Testimonials
La nueva aplicación Android desarrollada por Luce para que el repartidor pueda de forma ágil e intuitiva realizar su ruta de recogidas y entregas, ha supuesto una gran mejora en la experiencia de usuario y en la eficiencia y la optimización de tiempos. Por otra parte, el despliegue en una infraestructura escalable en Azure, gestionada por el equipo de Luce proporciona escalabilidad al sistema en función de las variaciones de carga de trabajo.
Gracias al Big Data y a los modelos de IA creados por Luce, hemos sido capaces de identificar los clientes con alta probabilidad de conversión y optimizar las campañas de SEM reduciendo los costes un 55%. Esta información nos permite crear audiencias de usuarios similares, incrementando nuestra calidad del tráfico que se traduce en mejoras en el ROAS.
En PuroEGO necesitábamos una herramienta ágil para consultar información sobre las ventas y el stock. Luce consiguió mostrarnos el camino más eficaz con la integración de DOMO dashboard Software. Gracias a esta integración con DOMO, recibimos el premio de innovación en el punto de venta en Retail Forum 2019.
Customer Satisfaction Surveys
January 11, 2022
Luce, excellent at Customer Experience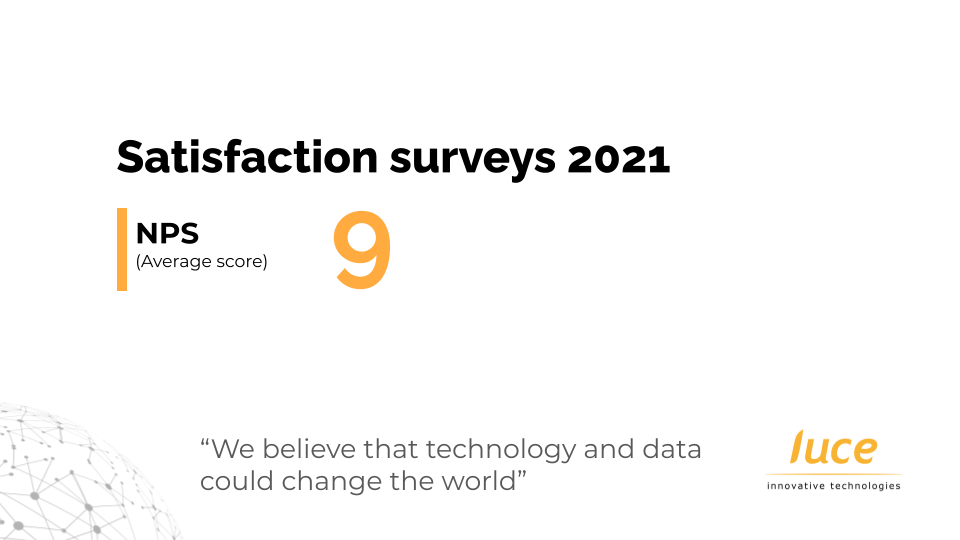 The whole Luce team is proud that our customers take the time to respond to the surveys, and throughout 2022 we will be working to transform all suggestions into improvement actions to continue on the path of delivering continuous value to your organisation.
Read Blog
January 27, 2021
Luce, excellent at Customer Experience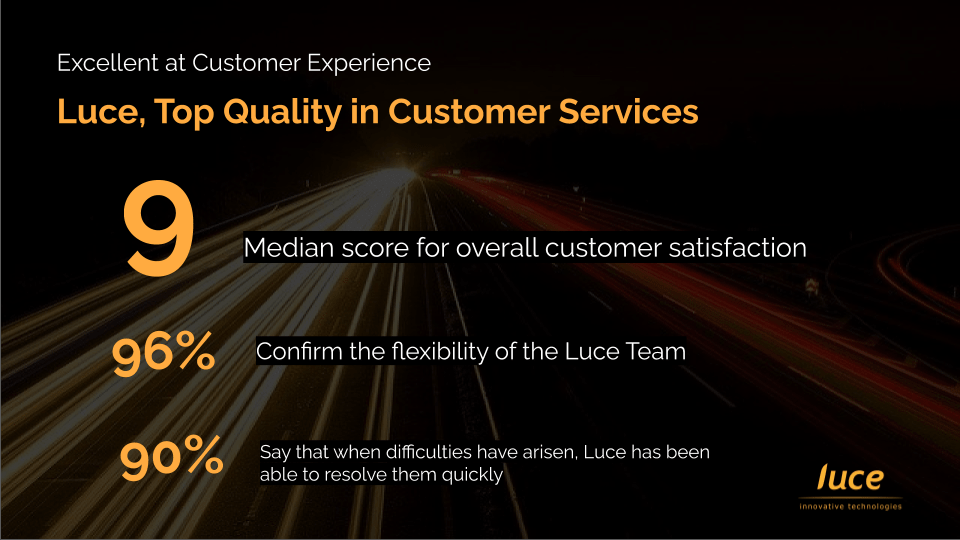 According to the latest Luce customer satisfaction survey conducted in December 2020, the average and median score is 9. Luce is proud to share these results, which help us to maintain our level of quality and service, as well as to improve and optimise our processes as much as possible.
Read Blog
Agile Metodology
Luce's structure, based on the Lean Startup Model, is a success as an agile model that accelerates projects in large global companies. Agile methodology immersed in all projects, including those of Customer Experience and Consulting. In addition, Luce is based on three fundamental pillars to improve the customer experience.
Luce Innovative Technologies drives the digital transformation of your business
Luce is the company selected by our clients to accompany them in their digital transformation in the areas of technology, data and automation, without losing the essence of an innovative, specialized and committed team.
Follow us on our social networks to find out everything about Luce Innovative Technologies: