Luce IT, the leading technology consulting firm in end-to-end solutions, continues its growth and expansion in Catalonia with the incorporation of a new Business Manager: Javier Cristobal Cura. With more than 15 years of experience in the technology sector, Javier will be responsible for leading the company's projects in the Catalan territory to ensure the successful delivery of high value-added solutions to our customers.
Luce IT continues to expand in the Catalan market with this new addition to the business development team. Javier Cristóbal, who joins as Business Manager, will lead customer technology projects in Catalonia. Javier has more than 15 years of experience in the technology sector and has successfully led projects in companies in various sectors, from startups to large corporations.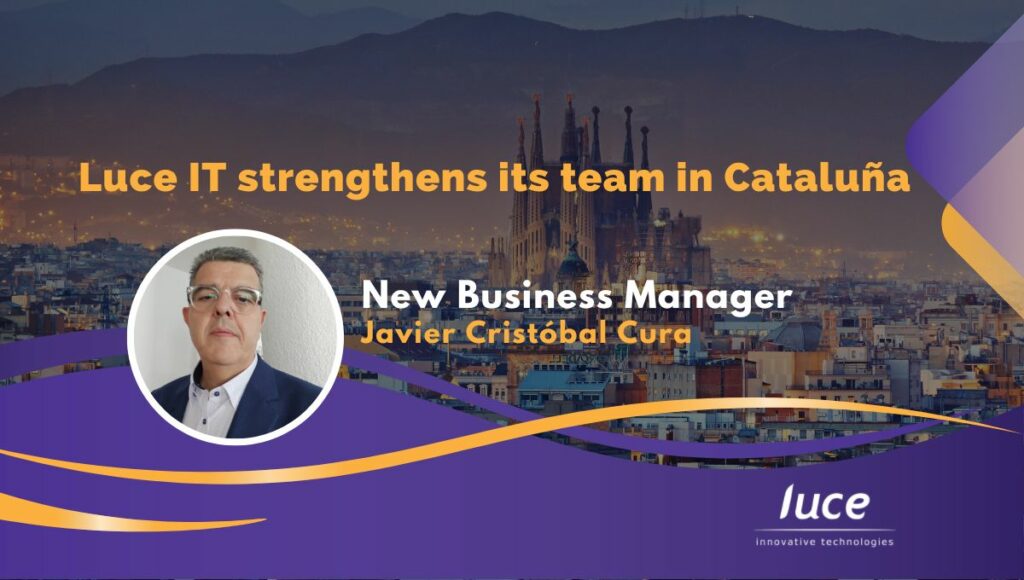 In his new role, Javier Cristóbal will be responsible for managing the company's projects in Catalonia, ensuring customer satisfaction, delivering customized and high value-added solutions.
"I am excited to join the Luce IT team and lead innovative projects in Catalonia. The company has a great reputation in the market thanks to its focus on end-to-end solutions, and I am looking forward to working with the team to continue delivering value to customers," says Javier Cristobal.
For his part, the CEO of Luce Innovative Technologies, Javier Durán de Jesus, highlighted Javier Cristóbal's experience and his ability to lead complex projects:

"Javier's incorporation as Business Manager in Catalonia reflects our commitment to the region and to our Catalan customers. We are sure that his experience and knowledge in the sector will be fundamental to lead projects in Catalonia helping our clients with high added value solutions", adds Javier Durán de Jesus.
Luce IT is a company specialized in the development of technological solutions for companies in various sectors. Since 2008, we help the digital transformation of our clients in the areas of software development, big data, digital marketing, analytics, cloud and intelligent process automation.
Luce IT develops its own assets or technological solutions, but also has the support of major partners such as Microsoft, Google Cloud, Acoustic, Snowflake or Dynamic Yield, among others.
However, what really makes us stand out in Luce IT is the deep knowledge about the customer experience, managing to build the competitive advantage on its own ecosystem, with the best solutions in the market that automate and accelerate the digital transformation of value.
With the incorporation of Javier Cristóbal as Business Manager in Catalonia, Luce IT continues its growth and expansion in the Catalan market, reaffirming its commitment to offer high-value technology solutions tailored to the needs of our customers in a closer way.
Luce IT, always adding value
"We believe that technology and data could change the world"
The history of Luce is a story of challenges and nonconformity, always solving value challenges using technology and data to accelerate digital transformation in society through our clients.
We have a unique way of doing consulting and projects within a collegial environment creating "Flow" between learning, innovation and proactive project execution.
In Luce we will be the best offering multidisciplinary technological knowledge, through our chapters, generating value in each iteration with our clients, delivering quality and offering capacity and scalability so they can grow with us.
>>Would you work with Luce again?