2020 has been a year of radical and fundamental change that has shaken organisations to their foundations. Overnight, entire industries have been redefined, budgets have shifted and priorities have completely changed. Technologies that were once considered cutting-edge have been adopted on a massive scale. Undoubtedly, the pandemic has served to test the resilience of the economy and of organisations. The point is, this is not just a one-off. We are undergoing ever more rapid transformations and with them, as always, opportunities will arise. .
Identifying these opportunities today is key to the success of the influential companies of the next decade. In fact, it has been seen that organisations that were prepared to be agile and innovative are performing better than those that were not. Decisions made now will determine which organisations outperform, or even take advantage of the change.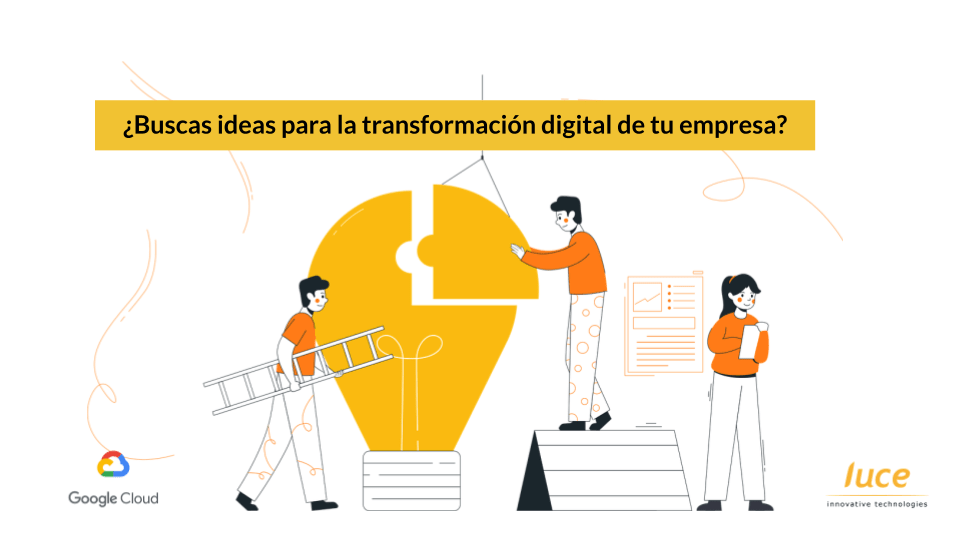 In order to detect these opportunities, Luce, as a Google Cloud Partner Advance, would like to share the report: "Google's Guide to Innovation: Ideas for adapting strategy, resources and technology". Executing the strategy for success to make teams more effective and innovative depends on these three fundamentals: .
Agile teams and technology

:

In most cases, systems and infrastructure do organisations no favours. Agile teams need an open platform that allows them to transform business applications or create new ones, delivering value to customers faster, more reliably and at greater scale.
Data-driven intelligence

:

Every year organisations generate more and more data that is often disorganised, siloed or completely inaccessible. Organizing that data and being able to quickly glean meaningful information from it is the key to unlocking business-critical value.
A culture of collaboration and innovation

:

technology is only part of the equation. Organisations also need to have the right people and processes in place, which also means having the right tools for collaboration and knowledge sharing. This guide explores these three essential concepts to help you and your teams be more successful in this era. It has always been people that have driven technology, and today this is especially true as teammates must collaborate and solve big problems together, even if they are not in the same room. Fostering a culture of innovation helps to identify new opportunities and act quickly to create new ideas and stay ahead of the competition.
Discover the pivotal role cloud computing has played in enabling businesses to remain agile, and see how you can develop a culture that facilitates change and innovation.
Creating and maintaining your competitive advantage, cannot only be achieved by improving technology; for a company to become more innovative and evolve over time, it is necessary to restructure other pillars of the organisation, such as people, processes and structures, i.e.,  innovate by creating an innovative corporate culture, which fosters the commitment and transformation of the team and keeps them always oriented towards the future.
Organisations that have integrated agile practices into their operating models have performed betterthan those that do not. 
The good news is that for this we can currently count on incentives from the public sector, such as the Next Generation Funds of the European Union, which can help us to undertake these digitisation projects in our organisations.
Do you need more information?
At LUCE we team with our clients to help them build their competitive advantage. A competitive advantage built on their ecosystem, increasing the value of the client's own teams with a business-first approach.
Since 2008, LUCE has been helping in the digital transformation of its clients, in the areas of software development, Big Data, Digital Marketing, Analytics, Cloud and Intelligent Automation.
We make the objectives of each client our own, we commit to them and they form an active part of our team specialised in the best solutions that automate and accelerate the digital transformation of value. 50% of IBEX35 companies already trust us because we bring technology, value, ideas, commitment and honesty.
The true value of LUCE is the committed team that is generated between our clients and us.
We are a team with the strength to conquer the future!
>>Would you work with Luce again?