Why is Robotisation of Cognitive Capability Processes necessary?
If intelligent automation is the answer to the digital transformation of organisations, why is it so difficult for customers to automate today? 
One reason is because most companies have silos between front office, back office and employee productivity, as they were never designed to work together and facing this challenge without the right guidance can be scary and how scary it can be.
In the front office, systems like Salesforce or Microsoft Dynamics are designed to increase clientele. In the back office, systems of record such as SAP or Workday are built to increase business efficiency.  Finally, employee productivity solutions such as Office365 and GSuite allow employees to manage their personal workflows. The challenges are that these systems are not connected out of the box, so employees have to bridge the gap between these systems, losing valuable productivity cycles and leading to lower job satisfaction.  
While point solutions will help you with part of the process in the front or back office, only a comprehensive automation solution like our partner, Automation Anywhere will break down these silos.

The journey to Intelligent Automation
Solutions that combine Robotic Process Automation (RPA) and Artificial Intelligence (AI) achieve a high return on investment through cost and time savings and greater control of tasks and processes.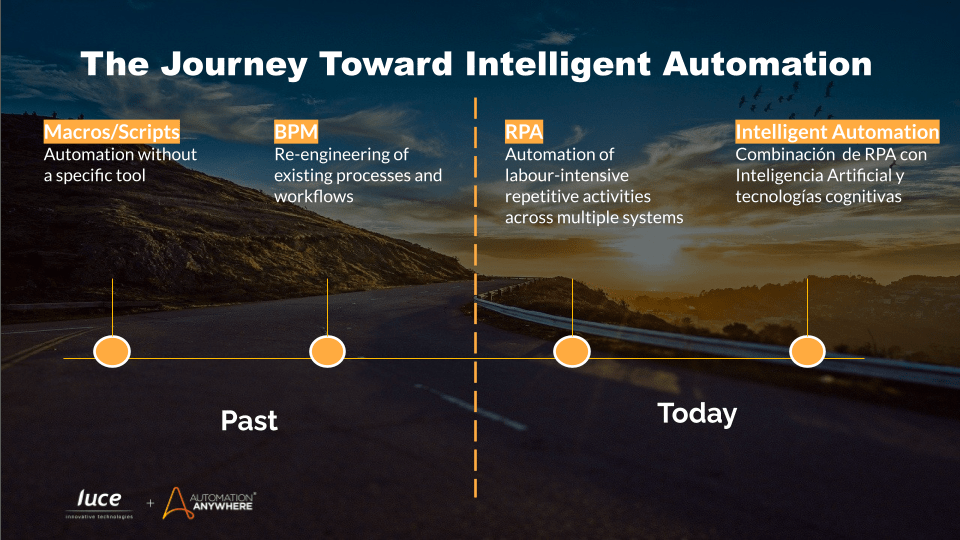 AI and cognitive technologies augment and mimic human judgement and behaviour and are complemented by RPA technologies that replicate rule-based human actions. The two technologies go hand in hand.
When RPA is combined with AI technologies, such as natural language processing or computer vision, the possibilities for effective automation are greatly increased.  The convergence of AI with RPA enables companies to automate more complex end-to-end processes than ever before.

The differential values of Luce
We are in an unbeatable position to successfully and to your satisfaction any challenge in intelligent automation, making our own skills, knowledge and experience available to you.

Our team is highly qualified and skilledin the identification, design, development and implementation of process automation solutions thanks to the experience gained in customer references.  The experience of more than 12 years in the use of agile methodologies for the development of incremental technology projects, allows us to minimise the initial time to put the solution into production.  
The commitment to provide value with the most innovative and technological vision to our clients is constant, opting for knowledge management, training and subsequent technical support as key activities for the technology transfer process, which is what ensures the optimal use and sustainability of the system.
Our own internal organisation, is constantly evolving to accommodate our team and clients, and so this year we have created the "Proyecto Atenea". The creation of Chapters by technological solutions, allow the optimal management of knowledge, technology, scaling, through the figure of the Chapter Lead. A Chapter Lead is a leader who must ensure the technological coherence of each of his chapters. He is responsible for the evolution, training, technical documentation and QA of each chapter. 
About Automation Anywhere
The Automation Anywhere solution is positioned as the undisputed market leader endorsed by Gartner and Forrester for being an End-2-End solution that provides full robotisation capabilities to its users without the need for high technology skills, as well as incorporating Artificial Intelligence for intelligent document processing
The licensing of Automation Anywhere is highly flexible, allowing the capacity of the automation ecosystem to be increased as new flows and bots are added to the system. Likewise, the proposed technological solution easily scalable to have the capacity to respond to an increase in demand in the implementation of new flows. As it is a cloud-based End-2-End solution, expanding the contract increases capacity in seconds.

With Luce, your company can embark on any intelligent automation process knowing that it can grow into a fully automated enterprise and bridge the gap between the front office, back office and all employees.
Are you ready to start on the road to intelligent automation?

If you have questions, or need more information, don't hesitate to contact us.
At LUCE we team with our clients to help them build their competitive advantage. A competitive advantage built on their ecosystem, increasing the value of the client's own teams with a business-first approach.
Since 2008, LUCE has been helping in the digital transformation of its clients, in the areas of software development, Big Data, Digital Marketing, Analytics, Cloud and Intelligent Automation.
We make the objectives of each client our own, we commit to them and they form an active part of our team specialised in the best solutions that automate and accelerate the digital transformation of value. 50% of IBEX35 companies already trust us because we bring technology, value, ideas, commitment and honesty.
The true value of LUCE is the committed team that is generated between our clients and us.
We are a team with the strength to conquer the future!
>>Would you work with Luce again?