LIA: Your New Intelligent Assistant to maximize your business
Last October we launched LIA (Luce Intelligent Assistant), the next-generation AI-enabled intelligent assistant designed to provide intelligent answers, simplify tasks and revolutionize the way we interact with technology.
LIA is more than just a virtual assistant; it is the intelligent companion designed to make your business more optimal and agile by simplifying the way you interact with technology.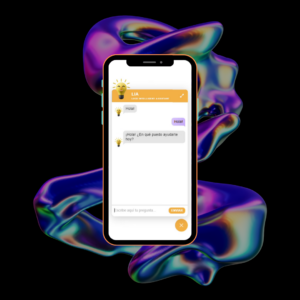 What makes LIA special? Let's take a look at its features:
Simplified End2End Processes: LIA is designed to complete end-to-end processes in operational systems. This means it can handle tasks involving multiple steps, automating each stage and ensuring smooth execution of complex processes. With LIA, End2End processes become more efficient and reliable, freeing you from the need for constant supervision and allowing you to concentrate on strategic tasks.
Versatility Without Limits: LIA is like a multifunctional computer in one. It can adapt to various functions and scenarios, from answering everyday questions to performing complex tasks.
Machine Learning: LIA not only responds, it learns. It gets smarter over time, which means more accurate responses tailored to your needs.
On All Channels: WhatsApp, websites, mobile apps? LIA is everywhere. You can interact with it wherever you are, on whatever platform you prefer.
Total Automation: LIA is capable of handling complete tasks without the need for human intervention. Imagine the efficiency this brings to your daily processes.
Universal Connection: LIA connects to multiple information sources, ensuring accurate and enriching answers. Access data and knowledge in real time.
The Intelligent Interaction Revolution
LIA is here to change the way we interact with technology and simplify tasks and operations in your organization. You no longer have to deal with complicated processes or waste time searching for answers. LIA is designed to make your life easier and save you time.
What can you expect from LIA? Intelligent and accurate answers, automation of repetitive tasks, and an exceptional user experience in a variety of applications. From improving customer service to simplifying internal processes, LIA has unlimited potential.
The Future Begins with LIA
We are excited about the opportunities that LIA brings and the impact it will have on the way organizations communicate and deliver their services.
LIA is the future of intelligent interaction, and you have the opportunity to be part of this exciting revolution.
Interested in learning more about LIA and how it can benefit your organization? 
Don't hesitate to contact us and request your demo right now!
The future of intelligent interaction has arrived, and it's called LIA.
Welcome to the AI era!
Luce IT, your reliable technological innovation company
"Creating happy teams"
The history of Luce is a story of challenges and nonconformity, always solving value challenges using technology and data to accelerate digital transformation in society through our clients.
We have a unique way of doing consulting and projects within a collegial environment creating "Flow" between learning, innovation and proactive project execution.
In Luce we will be the best offering multidisciplinary technological knowledge, through our chapters, generating value in each iteration with our clients, delivering quality and offering capacity and scalability so they can grow with us.
>>Would you work with Luce again?