At Luce Innovative Technologies,not only seek to offer quality technological solutions, but also to establish a close and collaborative relationship with our clients.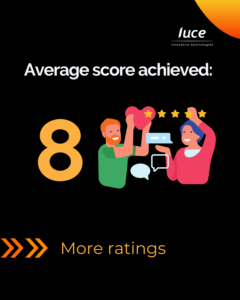 The quality we offer to our customers comes first. That is why, in addition to the day to day, we like to know the opinion of our customers in our annual Satisfaction Survey. 
The detailed and honest feedback we receive from them is a source of learning and drives us to exceed their expectations on every project.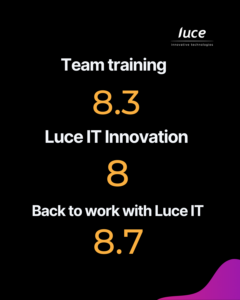 Every year we enjoy reading the opinions that our clients give us on our daily work. The numerical score is important, but what we value most are the qualitative responses and the time that clients take to give us their reasons.
But beyond the numerical rating, what has really impressed us is the quality of the feedback we have received. Our customers have taken the time to provide us with detailed feedback, expressing their appreciation for the way we have addressed their challenges and offered effective solutions.
Among the comments we receive from our valued customers, we highlight opinions that encourage us to continue providing quality technological solutions.
Below, we share some of these comments that reflect the impact we have had on their organizations.
This valuable feedback allows us to learn and grow as a company. It helps us identify areas where we can improve our processes, strengthen our communication and ensure that our solutions are even more effective and aligned with our clients' needs.
Thanks to all our customers for their support and trust.
¡We look forward to continuing to be your reliable partner in solving your technology challenges!
Luce IT, always generating value
"We believe that technology and data can transform the world."
The history of Luce is a story of challenges and nonconformity, always solving value challenges using technology and data to accelerate digital transformation in society through our clients.
We have a unique way of doing consulting and projects within a collegial environment creating "Flow" between learning, innovation and proactive project execution.
In Luce we will be the best offering multidisciplinary technological knowledge, through our chapters, generating value in each iteration with our clients, delivering quality and offering capacity and scalability so they can grow with us.
>>  Would you work with Luce IT again??