Bahia Principe Hotels & Resorts evolves towards an analytical system based on Artificial Intelligence models thanks to the implementation of
Machine Learning's Unsupervised Clustering Algorithm

hosted on Microsoft Azure Web Apps.

Luce Innovative Technologies deploys Artificial Intelligencemodels on the Bahia Principe Hotels & Resorts website in order to classify its customers using browsing data, in addition to predicting the probability of conversion.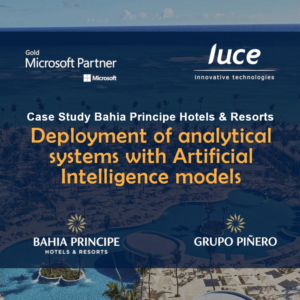 The technology of Microsoft Azure has enabled the execution of this project as it required an infrastructure capable of supporting the training of the models using large volumes of information, while at the same time making the data obtained available with optimal response times with the aim of not penalising the user experience.
The implementation of Machine Learning's Unsupervised Clustering Algorithm has managed to automatically segment web users in real time according to their browsing patterns, finding strong correlations to their probability of final purchase.  The 1:1 web personalisation by segmenting high quality users, has achieved an optimisation of Digital Marketing campaigns achieving significant savings in annual spending.

Do you want to optimise your Digital Marketing campaigns?
Contact the team of experts at Luce Innovative Technologies to find out how we can help you solve your technology challenges successfully..
At LUCE we team with our clients to help them build their competitive advantage. A competitive advantage built on their ecosystem, increasing the value of the client's own teams with a business-first approach.
Since 2008, LUCE has been helping in the digital transformation of its clients, in the areas of software development, Big Data, Digital Marketing, Analytics, Cloud and Intelligent Automation.
We make the objectives of each client our own, we commit to them and they form an active part of our team specialised in the best solutions that automate and accelerate the digital transformation of value. 50% of IBEX35 companies already trust us because we bring technology, value, ideas, commitment and honesty.
The true value of LUCE is the committed team that is generated between our clients and us.
We are a team with the strength to conquer the future!
>>Would you work with Luce again?