Last Friday 20th October we were immersed in an exciting journey of innovation and learning during our exclusive event on Generative AI and Data in Madrid.
In an environment of total trust generated by the quality of the attendees, it was a day full of knowledge, connections and enriching experiences that we won't soon forget.
The Power of Generative AI and Data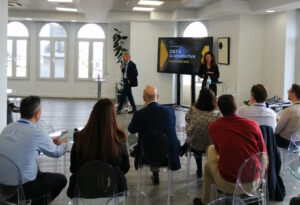 We walked the path from AI, through generative AI, and gave small glimpses of what General Artificial Intelligence (general AI, AGI or ASI) could become in the not too distant future.
We delve deeper into the value that generative AI brings to organisations today, sharing real use cases, but not forgetting the risks and limitations that exist right now around the evolution and use of artificial intelligence.
Connecting and Sharing Ideas
One of the highlights of the event was the discussion session. Here, attendees had the opportunity to connect with colleagues and data experts in a relaxed atmosphere conducive to the exchange of ideas.
Presentation of LIA (Luce Intelligent Assistant) (Luce Intelligent Assistant)
Attendees got a sneak preview of LIA, Luce's next-generation intelligent assistant that takes the form of a chatbot but is so much more. LIA will revolutionise the way we interact with technology, simplifying tasks and offering intelligent responses and new opportunities for communication.
You can hear it for yourself in this video:
A Special Thank You
We would like to express our sincere thanks to our outstanding speakers, and, of course, to all the attendees who made this event a success.
The event came to an end, but the spirit of innovation at Luce is endless.
>>In this Link you can see pictures of the event
Luce IT, your reliable technological innovation company
"Creating happy teams"
The history of Luce is a story of challenges and nonconformity, always solving value challenges using technology and data to accelerate digital transformation in society through our clients.
We have a unique way of doing consulting and projects within a collegial environment creating "Flow" between learning, innovation and proactive project execution.
In Luce we will be the best offering multidisciplinary technological knowledge, through our chapters, generating value in each iteration with our clients, delivering quality and offering capacity and scalability so they can grow with us.
>>Would you work with Luce again?