If your organisation has not yet migrated to the cloud, it is certainly on your list of priorities for the coming year. The migration of applications, systems and processes to the cloud is a must that any organisation should consider and carry out as quickly as possible.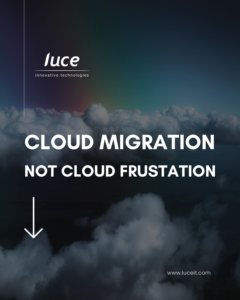 The main benefits that migration to the cloud can provide to your organisation are scalability, security, flexibility and cost optimisation, among others.
But what happens once you've migrated or completed the first stages of migration?
The top leaders of large global organisations are already starting to unlock both the business and technology benefits, mainly achieved during post-migration cloud optimisation.
Here is some background and data provided by the Forrester report, State Of Public Cloud Migration, 2022: How To Get Things Right Throughout The Cloud Migration Journey:
78% accelerated their migrations as a result of changes in customer expectations due to COVID-19
In 2020, organisations faced the challenges of the initial migration phase of strategy, skills and security. Now, as migrations have increased and accelerated, the challenges of migration are becoming more apparent.
In 2021, enterprises continued their migration to the cloud for virtually all applications, especially software development suites, databases, internal tools, emerging technology and customer experience (CX) platforms. To facilitate these migrations, enterprises relied on third-party migration of professional services and third-party tools, as in 2020.
80% gree their cloud migration provider was a key partner in their migration success.
In 2022, the first migrations are already starting to reap the benefits and focus on solving post-migration challenges, such as ongoing management and continuous improvement of digital assets.
In this journey towards optimisation, organisations can unlock the full potential of their cloud assets, enabling greater flexibility, efficiency and competitiveness in an ever-evolving business world.
In 2023, organisations are focused:
Prioritising essential factors when selecting their cloud provider.
Optimising what has already been migrated and migrating more advanced systems.
Opening up new possibilities through the cloud, to discover transformative solutions and deliver new business value.
Security and overall modernisation of your infrastructure.
If you want more information, these are some of the key points you can find in the Forrester report State Of Public Cloud Migration, 2022: How To Get Things Right Throughout The Cloud Migration Journey.
External migration support is expanding.  
Organizations who enlisted third-party services to facilitate early-stage migration tasks have increased their reliance on these providers for ongoing management post-implementation.
Cloud migration streamlines operations.
80% of organizations report increased application development and 78% report consistent or improved workload performance due to a recent cloud migration
Cloud vendors are key partners in long-term success.
ITDMs are working more closely with cloud providers as strategic business and migration partners, including exploring education and  strategic support opportunities
>> You can download the full report here
If you are looking to migrate to the cloud and optimise your migration process, don't hesitate to count on an experienced partner like Luce IT.
We can help you migrate applications, systems and workloads quickly and easily. And if you've already migrated, we can also help you optimise your post-migration, giving you no-obligation information on how one of the key initiatives for our customers this year, FinOps, can help you optimise your technology resources and maximise the value of your cloud.
Luce IT, your reliable technological innovation company
"Creating happy teams"
The history of Luce is a story of challenges and nonconformity, always solving value challenges using technology and data to accelerate digital transformation in society through our clients.
We have a unique way of doing consulting and projects within a collegial environment creating "Flow" between learning, innovation and proactive project execution.
In Luce we will be the best offering multidisciplinary technological knowledge, through our chapters, generating value in each iteration with our clients, delivering quality and offering capacity and scalability so they can grow with us.
>>Would you work with Luce again?